9 Best Hotels In Amarillo, Texas With Indoor Pools, Outdoor Pools, and Waterslides!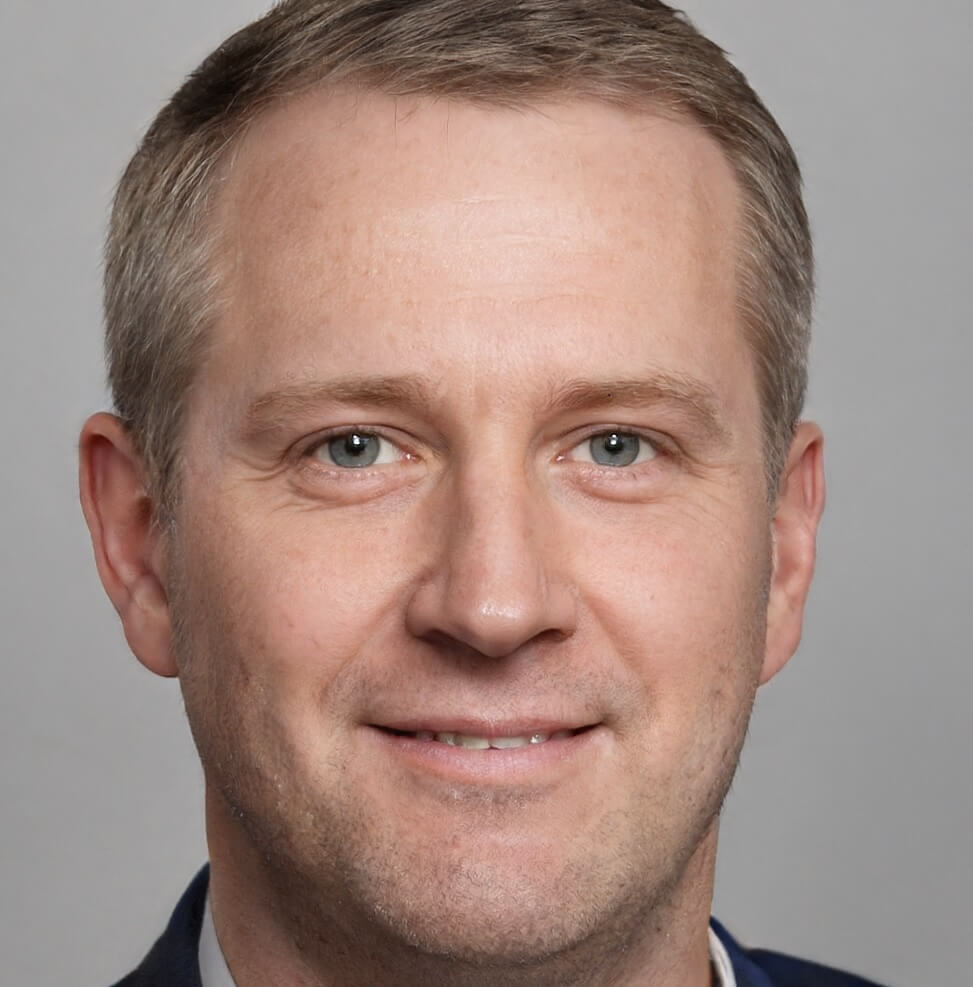 Looking for a trustworthy local guide? Unfortunately, most major travel websites publish general information with little in the way of local insight. Sam has lived and worked in North Texas for over three decades and has his finger firmly on the pulse of local hospitality and tourism.
There's nothing we Southern folk love more than cooling off in a fantastic pool after a long day on the road or out in the city. Fortunately, Amarillo's hotels and inns are home to some great options, primarily indoors but a few excellent choices outdoors too. For this article, I've prepared a curated list of the city's best hotel pools in each significant category.
Booking.com
is the only official place to find special, limited-time offers. Rooms bookout fast so don't hang around! Although this
link
guarantees the best rate on your room, we highly recommend early booking to avoid disappointment later.
Hotels With Indoor/Outdoor Pools
Best Cheap Hotel With An Indoor Pool: Hilton Garden Inn Amarillo
Hilton's Garden Inn is located on the I-40 West and offers rooms at surprisingly affordable rates. Although not a quintessentially "cheap" hotel, this inn is affordable and, best of all, it has a decent albeit modestly sized pool and jacuzzi.
If you like a morning swim to get the blood flowing then this pool should do the trick. However, if you're looking for bigger and more expansive options for the whole family then keep reading ahead!
Rates: rooms are available from an affordable $70.
Bottom Line: reasonable indoor pool and jacuzzi, but modest in size.
Grab a cheap room at the lowest possible rate.
Best Airport Hotel With An Indoor Pool: Holiday Inn Express & Suites
This selection is not easy to make because there are other airport hotels with reasonable pools. These include the modestly-sized indoor offering from Fairfield Inn & Suites and the very pleasant La Quinta indoor pool.
One characteristic of the Holiday Inn pool that impresses me is the very pleasant, recently renovated interior of the room itself.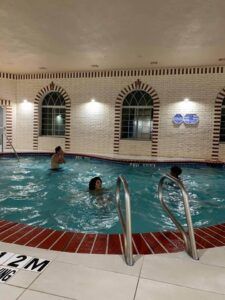 Rates: rooms start from a mid-market rate of $100.
Pros: the pool room itself is tastefully decorated and the pool is good sized.
Cons: La Quinta also offer a pleasant pool in their airport location at a similar and sometimes slightly cheaper rate.
Reserve a room at our guaranteed lowest rate.
Best I-40 Hotel With An Indoor Pool: Country Inn & Suites by Radisson
So far we've been stuck in the little leagues but with Radisson's Country Inn & Suites we're finally cooking with gas for all you indoor pool enthusiasts.
This one is a beauty and is beloved by families for its uncanny ability to keep children entertained for hours. Its pleasant surroundings make for peaceful relaxation or an exercise session too.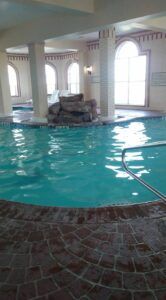 Rates: rooms can start as low as $70 so you needn't break the bank to enjoy it.
Bottom Line: Country Inn & Suites by Radisson is probably best known for its great pool, but the hotel also offers free breakfast, parking, and wifi.
Book a room at the Country Inn by Radisson and enjoy a guaranteed lowest price.
Best City Center Hotel With An Indoor Pool: Embassy Suites by Hilton
We have been saving the best for you and, rest assured, the Embassy Suites by Hilton does not disappoint with its stunning indoor pool. This is a tasteful and refined pool and jacuzzi situated adjacent to the location's fitness room.
Although perhaps not a 'family-oriented' pool, this selection is ideal for couples on a romantic getaway or even for lone travelers seeking some tranquility and exercise in perfect surroundings.
Rates: rooms at the Embassy Suites start at around $110.
Bottom Line: this tasteful downtown spot has it all, and the indoor pool is perfect for unwinding.
Consider booking a suite at our guaranteed lowest rate.
Best Indoor Pool Overall: Country Inn & Suites by Radisson, Amarillo
Although Hilton's Embassy Suites boasts a beautiful indoor pool, Country Inn just grabs the prize here thanks to the relative affordability and family-friendliness of this beautiful indoor spot.
Best Outdoor Pool Overall: SpringHill Suites by Marriott Amarillo
SpringHill Suites over on I-40 West holds legitimate claim to the most pleasant outdoor pool in Amarillo. Not because it's big or elaborate, but simply because of its refined surrounds, deck chairs, privacy, and tranquility.
If you are more of an outdoor swimming fan then you will likely find this pool to your tastes.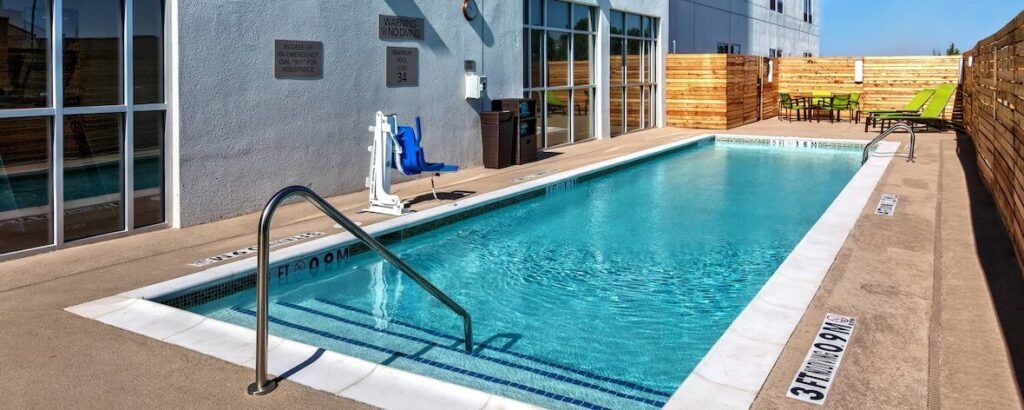 Rates: rooms start from approximately $130.
Bottom Line: this relatively small outdoor pool is tasteful, private, and extremely relaxing.
Try booking a room at our guaranteed lowest rate.
Best Hotel Pool With A Waterslide: Holiday Inn Amarillo West (Have Removed The Slide! See Our Alternatives)
There's some good news and bad news here. The Holiday Inn West was once home to Amarillo's only hotel waterslide. However, this has long since been removed. It appears that some disgruntled guests continue to book a room in the hope of taking their children to the pool, only to be met with disappointment.
But, alas, at least we saved you a trip! To be completely honest, the slide wasn't all that impressive in the first instance. If you're looking for something a bit more high octane then a trip to the fantastic new "Thompson Park Pool" might be in order!
Honorable Mentions
Other hotels with indoor pools include:
Drury Inn & Suites Amarillo
Staybridge Suites
Hampton Inn
La Quinta
Why not book a room at the Holiday Inn Amarillo West at our guaranteed lowest rate.
Frequently Asked Questions (FAQ)
Is it more pleasant to swim indoors or outdoors in Amarillo?
Anyone from Amarillo will gladly tell you that the climate in this city has a mind all of its own. Due to extreme variations in temperature, indoors is typically a safer bet. Outdoor pools can be fantastic at times but are simply not suitable for large parts of the year. Early summer is perhaps the most ideal time for outdoor swimming.
Are the pools typically busy and what kind of audience do they attract?
The clientele of each pool reflects the wider audience of the hotel. Family-friendly hotels can be a bit more raucous but then this can also mean more fun for the family. On the other hand, lodgings at the Embassy Suites and the SpringHill suites tend to have somewhat of a more peaceful vibe.
Who has the biggest pool?
I have not yet been able to measure each one in person yet, however, I can say that Country Inn & Suites by Radisson has one of the more expansive.